In what is one of the largest and most significant deployments of zero emission trucks in the UK to date, 20 DAF LF Electric vehicles are entering service with a range of public bodies including the National Health Service (NHS) and Local Authorities, as part of the Battery Electric Truck Trial (BETT) funded by Department for Transport (DfT).
The trucks are now entering day-to-day operations while at the same time gathering real-time data; the results from which will be used in an interactive website to inform future fleet operator buying decisions and help stimulate the sale of battery electric trucks. With the Government having set ambitious targets to end the sale of non-zero emission heavy goods vehicles from 2035 (for vehicles of 26-tonne GVW and below, and 2040 for heavier vehicles) the BETT is expected to make a significant and positive impact upon the move to zero emission vehicles.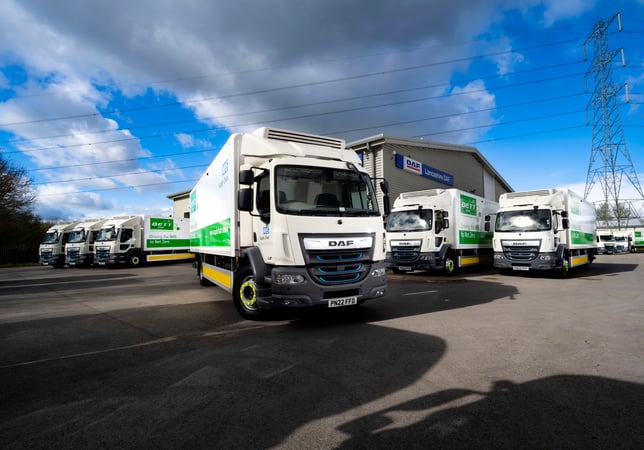 One of the key operators partnering the BETT is NHS Supply Chain who, supported by Prohire Ltd. in the provision of financing and maintenance services as part of the arrangements, are due to deploy eight DAF LF Electric rigids with refrigerated bodies at several of its locations around the country. Five vehicles are also destined for local NHS Trusts. The remaining seven are earmarked for service with two Local Authority Framework Organisations in school supply operations and Local Councils for use in recycling and general logistic uses. Bodywork includes PACCAR box bodies designed and manufactured by DAF Trucks, and also temperature-controlled bodies supplied by Gray & Adams.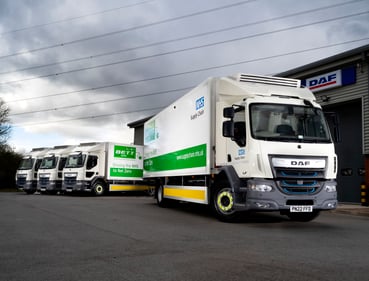 The BETT is valued at £10 million and focuses on an end-to-end solution, covering vehicles, charging infrastructure, user training, repair and maintenance and total-cost-of- ownership, providing operational insight across a variety of duty cycles. It is part of the Government's wider £20 million zero emission road freight trials and is delivered using the SBRI (Small Business Research Initiative); a process bringing together government challenges and ideas from business to create innovative solutions. Lancashire-based Leyland Trucks – where the LF Electric is manufactured – is working with CENEX, the low carbon research and consultancy organisation, to create the interactive BETT report and website.
Transport Minister, Trudy Harrison, said, "Demonstrating the high performance of battery electric technology in demanding, real world environments is critical to ensuring confidence continues to build within the industry around the future of zero emission trucks.
Recharging Infrastructure
Also key to the BETT will be a thorough analysis of vehicle charging. The project will use 14 PACCAR battery-charging units stationed at 13 operator locations, with capacities ranging from 22kW to 180kW to suit differing operational needs and to provide a broad range of data.
Driver Training
DAF Academy Driver Training has been provided for drivers of the BETT LF Electric vehicles with locally based DAF Dealer Trainers also being familiarised to provide on-going ad-hoc driver support as required during the trial.
Service Back-Up
The BETT vehicles are being maintained and supported through the DAF Dealer Network, specifically at seven locations, each with two dedicated DAF Technicians benefitting from IMI Level 3 maintenance qualifications and specific LF Electric product awareness training. DAF Trucks has already commenced the roll-out of dedicated electric vehicle training, with 36 individuals within the DAF Dealer network having achieved IMI Level 2 or Level 3 qualifications.
Built in Britain
Leyland Trucks manufactures the successful DAF LF series of distribution vehicles, including the LF Electric which recently entered production at its state-of-the-art plant in Lancashire. The company also produces the latest International Truck of the Year DAF XF, XG and XG+ vehicle ranges in right-hand-drive format.
DAF LF Electric and CF Electric – zero-emissions trucks now available in the UK
DAF Trucks is among the first truck manufacturers to already have full electric trucks for sale in the UK market, including the 19-tonne DAF LF Electric and the larger DAF CF Electric in 4x2 tractor and 6x2 rigid variant, perfectly suited for general distribution, as well as supermarket delivery and waste collection applications.