DAF Driver Training Vouchers delivered 'at a distance' for CRS
Building materials specialist takes advantage of DAF driver training vouchers
Social distancing employed throughout 2.5-hour on-site training course
Driver training implemented following delivery of four DAF CFs in March
"The Driver Training Vouchers scheme is an excellent initiative. Anything to extract maximum efficiency from our vehicles," Paul Gibbard, CRS Building Supplies
After taking delivery of four DAF CF 370 three-axle rigids in March, CRS Building Supplies has taken advantage of DAF Trucks' Driver Training Vouchers to maximise driver productivity and vehicle familiarity. Observing social-distancing guidelines, qualified DAF Driver Trainer, Ron Smith, delivered the training course to two drivers at CRS's Keynsham location last week.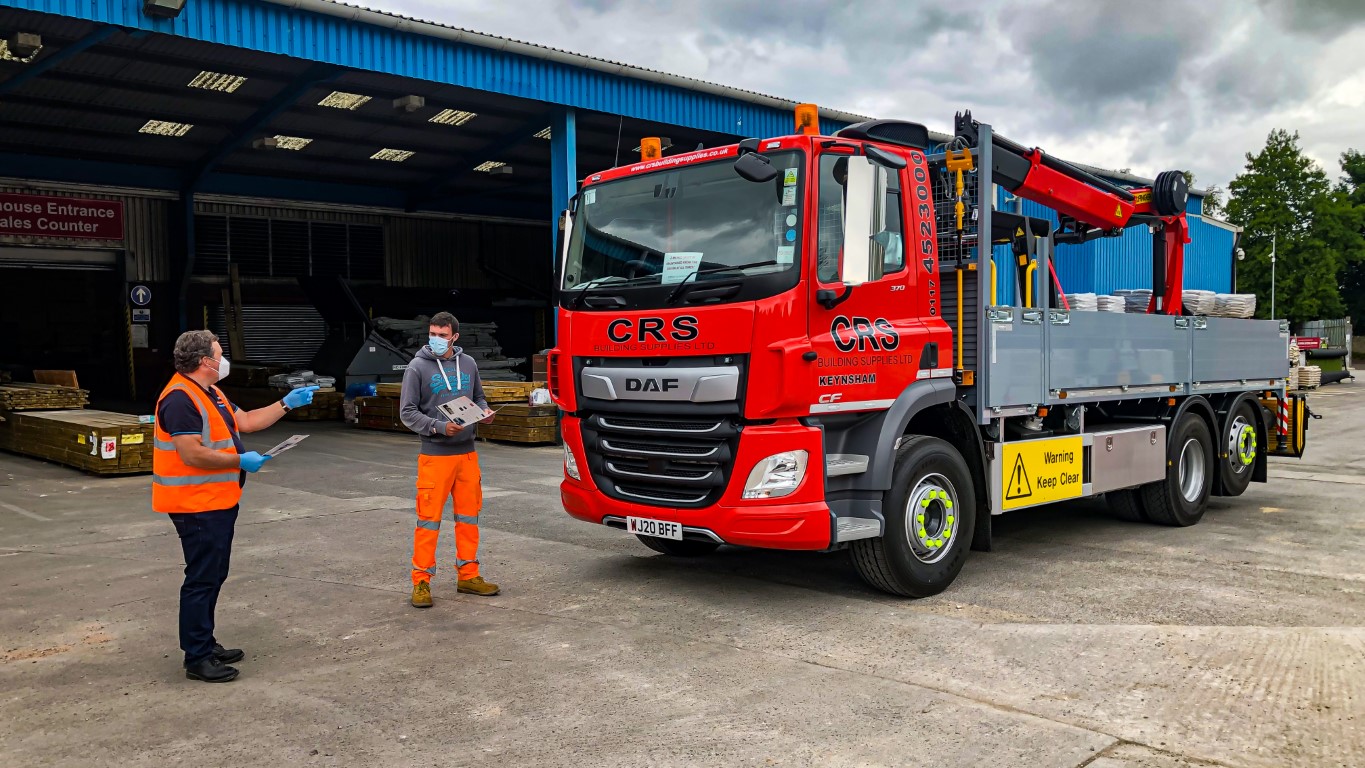 Following their introduction in February 2019, DAF Driver Training Vouchers are offered to all retail customers acquiring new DAF CF and XF trucks in exchange for a 2.5-hour training session. The initiative encourages operators and their drivers to take advantage of a professional introduction to their new trucks by one of a team of 25 regionally-based DAF Dealer Driver Trainers. Training includes in-cab and vehicle walk-round familiarisation, followed by an on-road familiarisation session, although this latter element is not possible currently due to social distancing guidelines.
Transport Manager at CRS, Paul Gibbard, is delighted with the voucher scheme and the overall DAF aftersales package, saying, "The Driver Training Vouchers scheme is an excellent initiative. Anything to extract maximum efficiency from our vehicles – and our drivers – can only be a good thing. We've been very pleased with the support from DAF Trucks and our supplying dealer, Kingdon Wessex DAF. There's a real partnership between us," he said, "and, with the team effort, I know that my transport operation is running at peak efficiency."
The latest 26-tonne GVW DAF CFs feature 'FAN' axle configurations comprising a steer, drive and lifting rear-steer tag-axle, delivering what Paul Gibbard, describes as, "outstanding manoeuvrability and payload". Gibbard had looked closely at DAF 18-tonne models already on the fleet but decided the weight and body length options of the 26-tonner offered greater operational flexibility. The operator says, "We have spec'd the 26-tonne trucks to have the same overall chassis-lengths as the 18-tonners, but with our 6.1m internal body-length we can get greater payload. For instance, on our 18-tonners we get five packs of blocks, the 26-tonners take nine, no problem.
The new DAF fleet is on a five-year funding package from PACCAR Financial, and a seven-year R&M contract. The firm describes itself as 'very happy' with the arrangement. "We've virtually doubled the fleet in the last 20 months," adds Gibbard, "so getting the package right was important – and getting it all through the same source makes life much simpler. We've set-up a build spec with DAF, Kingdon Wessex and TH White / Palfinger that enables us to replicate future new orders quickly and easily. The arrangement is working very well indeed."
Training for Fleets
DAF Trucks already supports many national and international fleet customers from its Haddenham head-quarters with training and 'train-the-trainer' support. The voucher scheme may also be used to provide similar train-the-trainer support for regional fleets who have their own driver trainer. Multiple vouchers issued for multi-vehicle deliveries can be exchanged for more in-depth training, and training materials, to ensure fleets can introduce their drivers to the latest features on their new vehicles.