A huge thank you to Stuart Durrant Transport for the below review of a New Generation DAF XF demonstrator, provided by Watts Truck & Van.
I was filled with a mix of emotions regarding my entrusted charge. Would it be better than my current DAF, would the European Truck of the Year disappoint, would I be tempted to sell a kidney. Even in the dark it almost glowed, drawing attention to itself. The doors open wide, the steps evenly spaced with grab rails to ease oneself into the nerve centre.
Unfortunately the top step is no longer big enough to leave your dirty boys outside, disappointing for me but door shuts with an assuring, quality thud. The dash layout is aesthetically pleasing but proved a trial for my aged brain to remember my vehicle handover from 2 days previous.
The front lights are excellent, headlights, fog lights & the almost laser like Skylights. I thought mine were good but this takes lighting to another level, so much so that additional lighting would merely be fashion accessories. I feel the cab is slightly quieter in motion & possibly a softer ride, but neither by any great degree. The 480 engine fitted was smooth & progressive, offering a pleasant growl when asked to do more. I felt the reworked engine held on better on hills, we got plenty of those around my neck of the woods.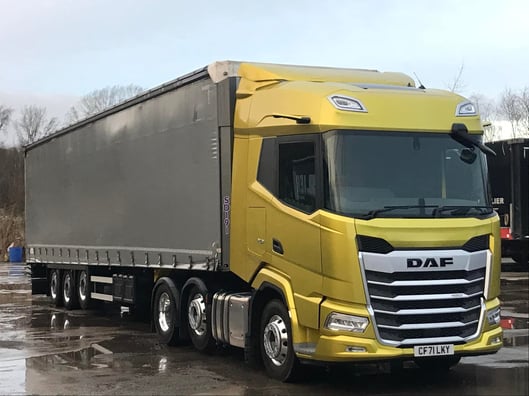 Driver Comfort
This (New Generation XF) cab is fitted with twin bunks, not that I'd like to be in such close proximity with anyone other than my wife. The top bunk however folds up so as not be intrusive but in this model the retaining straps operate on a ratchet type system, not sure if I'd be trusting with anything other than clothes. The lower bunk with its comfort mattress + lush mattress topper is quite high off the 200mm engine hump.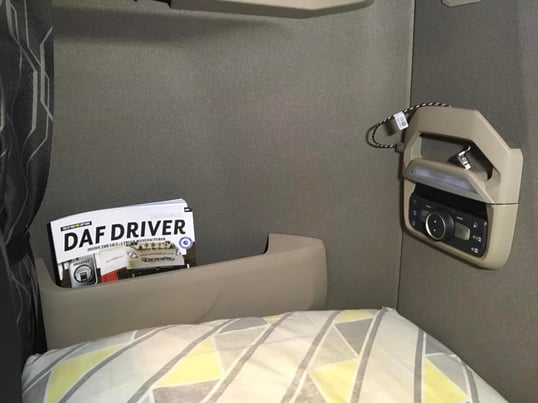 On the rear cab wall drivers side there's a new multi function control, it appears DAF designers have listened to drivers asking for controls for radio, windows, even a USB charger with phone rest. There's also a touch sensitive light, the top bunk only gets the same light, phone rest with USB. The curtains are a bit of a disappointment, very long at the front (they rest on the dash) but not slits to go around the mirror less screens like in an Actros. Another major gripe is the inability to energise the screens from the bed to a check on outside activity. The night heater is carried over from previous model & is very efficient in operation.
The now larger, two stage, pull out table could hold place settings for 2 & the large flat dash top is enormous, easily supporting a 16" laptop, nibbles & drinks. This vehicle had what's listed as a Cinema seat ie the base folds up against the backrest, freeing up floor space if needed. I'm about 5'9" and there's plenty of headroom when standing on the engine hump. There are 2 large outside lockers which can be accessed from the inside or locked from the inside, they're colossal but the vertically challenged might need to carry an old milk crate.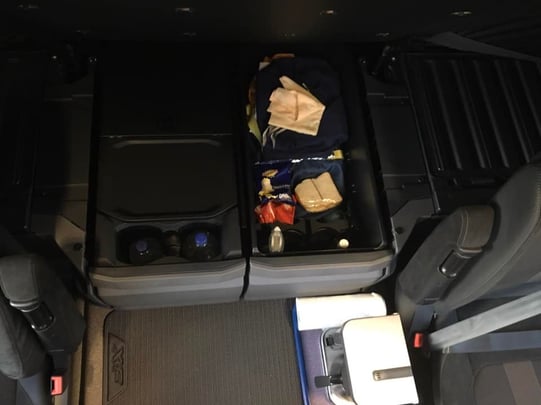 The fridge and large pull out drawer are in the same place as the previous models. There's a spacious under dash open shelf for one's easily accessible items, above it is a smaller shelf which has a wireless charging pad. There's a USB which allows you to use Apple CarPlay & a 12v 5A cigarette power socket, there are a further 2 USB 5v 1.8mA sockets on the dash top but none of these sockets will charge an iPad which requires 2.1mA. In the centre of the dash near the bottom of the screen there's a handy 12v ignition powered cigarette socket, ideal for a dashcam. This model has a microwave installed in the centre top locker, with a smaller locker either side. An electric glass sunroof with flyscreen & blackout blind flanked by sexy light clusters.
Driving Impressions
After a week in the truck my initial feelings are a distant memory, so much that if I was an employee I would not be disappointed with this vehicle. Admittedly it's fuel cheating looks could be improved and it's so easy to wash.
Entry is easy with the 3 steps & 2 grab handles, seat in this particular model was very comfortable with infinite adjustments. Steering wheel has plenty of adjustment, the stalks initially feel strange being rectangular but now feel functional. The dash is gorgeous with the centre section having many options for an individual, customised look. The left section houses a 10" screen for the installed Apple CarPlay, which even for me has becomes easy to use. Various switches are located below these 2 sections, all clearly marked and illuminated. The climate controls are below these switches to the left of the driver, carried over from the previous model. Handbrake is conventional & dash mounted, again carried over. Gear selection is now moved from the dash to right hand stalk.
MirrorCam set up is well executed but as a glasses wearer I'm not a convert, the side window blind works well with the monitor because if it had mirrors they would be completely hidden. Front windscreen blind is a single, full width that is easy to operate & retract.
My worst gripe is the side windows, they don't fully lower, making it difficult to reverse if additional direct vision is required. I assume that's to allow for a lower window to be fitted in relation to the Direct Vision System requirements. I makes operating keypads & swipe pads if they're mounted lower, which a number of my collection points have installed.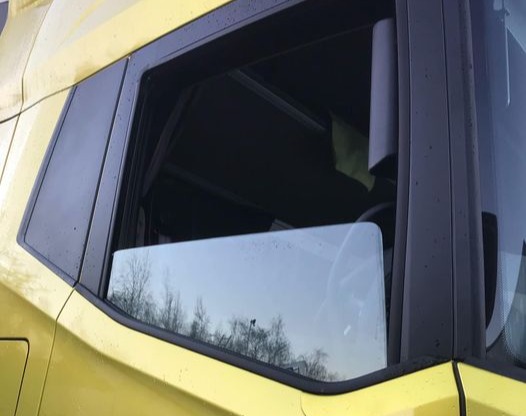 The engine pulls strongly & I personally like the Traxon gearbox. For me at 50 mph the engine revs are 1000 rpm, so relaxed. For whatever reason the soft cruise function in this demo has been deleted, when resume is pressed it gallops away to 1600 rpm like a Banshee. I feel the MX brake is a little stronger in this new model, maybe the result of the 50Nm engine power increase.
I've been criticised in the past for relying on the dash for fuel economy figures so I thought I'd use the brim to brim method & using both tanks. My first refuel after 554 miles required 200 lts equating to 12.59 mpg. My second refuel after 409 miles required 136 lts equating to 13.66 mpg. I feel both of these are an improvement on my current vehicle, especially as this vehicle only had 137 miles on it when I received it.
Final Thoughts
I've certainly enjoyed my two week demo, 9 driving days, with the new XF, but what's my verdict?
I covered 2,617 miles, used 27 litres of adblue & 1,056 litres of fuel which equates to 11.27 mpg and 2.6% adblue usage. Admittedly I run light and slow but a creditable figure for brand new vehicle & for myself only having had a very brief driver handover. This is not a reflection on the sales staff at Watts TVC but a shortcoming from DAF Trucks, not helped by COVID-19 restrictions & limitations.

What did I like
The led headlights & Skylights
The complete dash is fabulous, from the modern customisable driver information screens to the enormous flat passenger section
Curved windscreen gives such a panoramic view
Fridge is about the same volume as previous models but appears to be more efficient, I think on max it would make ice cubes
Engine appears to be more responsive, picking up quicker & hanging on longer. At 50 mph purring at 1000 rpm
The cab is so easy to wash externally, probably due to the lack of enhancements I've put on mine. It's aerodynamic qualities are proven by the lack of dirt on the sides of the cab.
The position of the air suspension controller

What I didn't like
The DAF Digital Vision System, as a glasses wearer, there's not enough clarity but the cameras do fold easily
The limited side window aperture when lowered, a trade off of future Direct Vision Standard requirements
None of the 4 USB charging sockets would charge an iPad

Would I buy one

This model, NO, because I'm lucky enough to be able to choose what I drive & not restricted by customer criteria. The new XG or XG+? I'll hopefully get to try them in good time & we'll see.

Many thanks to Kristian Seddon, Ben Adams & Gareth Rees at Watts TVC for allowing me to appraise their demonstrator. Even managed to get papped by JG transport photography along the way.