Truck driver and TikTok Influencer, Becky Giles got to try a New Generation DAF XG demo, along with her stories on social media, Becky also wrote the below review of her time with the DAF XG from Ford & Slater.
Words and photos by Becky Giles.
When I got told I was receiving the brand new XG demo I was very excited. I'm used to manuals so having an auto was a completely different experience to me.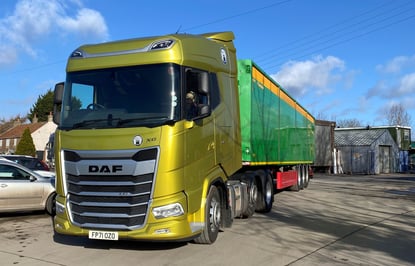 First impressions for me were "What is this colour?" and that it really needs a sun visor. I was actually very glad I received one with mirrors and not just cameras. The mirrors have changed, having less blind spots and being able to see pretty much all the way round the vehicle instead of ducking up and down in the old ones looking for cars. My demo (who I named 'OZO') did have a camera for the blind spot on the front, which I found very helpful pulling up to junctions on an angle where you wouldn't normally be able to see. The camera also picked up the side view as well so I could see a lot better.
Stepping into the cab was like stepping into a space ship. The room was incredible. For me I like to leave my boots on the top step but someone with bigger feet than me would struggle as the top step is not as big as the previous model. The one thing I really loved was the wireless charger which is built in, I thought that was a very good touch. I also loved how the bed moved up and down and was super comfy. The blue LED lights you can have were a very nice touch, as I don't really like to drive in full darkness in the cab as I'm so used to the green lights I have in my own truck.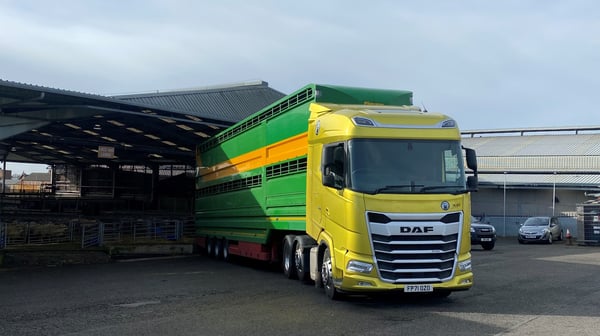 The dash was incredibly easy for me, but for the older generation I think it would take a bit more getting used to. The built in radio is all touch screen with Bluetooth and Apple car play which is very nice.
The LED lights are excellent, but the one thing I found very annoying is that you had to keep changing the settings on the top lights to flash with the bottom every time you turn the lorry on.
Being on livestock the gearbox needed to be smooth and smooth it was, so much better from the older generation model I had on demo. The cattle hardly moved moving up and down the gears so I was very very impressed. Being a 530 engine 'OZO' pulled well but was a lot more responsive when taken out of eco mode. It just didn't have the grunt that I'm used to. That's probably because I'm so used to a manual and managing the gears myself more.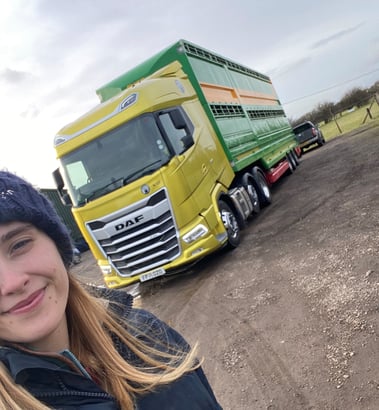 The one thing I really disliked was the windows, I didn't understand why they don't come all the way down. This made reversing a bit more difficult when you could not see the back end of your trailer and needed that extra bit of surveillance. The window made it uncomfortable for that, especially in what I do going in and out of farms backing in between tight buildings. If I was to order a brand new model I would have to ask if they could spec it so the window could come all the way down.
So my final thoughts. I loved my two weeks in OZO, they had to yank the keys out of my hands.
Would I order a brand new one? Probably yes, but not for me for dad. I love my manuals and unfortunately these models don't come in a manual but I would definitely "borrow" it from dad most weeks. I would definitely consider having one myself if the windows came all the way down.
See more photos and videos from Becky's time with the DAF XG on her TikTok and Instagram pages.